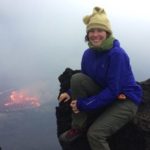 I think that we all went through our teenage angst. Mine arrived in the form of a disconnection with school, family, and purpose, as well as a restlessness that was difficult to define. As plans for spring break in grade 12 were being made, the idea of incessant partying in Florida just did not appeal. Instead, a trip to Mexico with a bit of time added on to explore was permitted by my parents…with the caveat that if I failed coursework, that I would repeat without a complaint, while my friends went on to grade 13 and University without me.
There were myriad forms of metalsmithing throughout Mexico, and my fascination with how it was made began. Fortunately, failure did not happen. I did, however, acquire a passion for travel. Following my second year of university, I bought a one-way ticket to Paris with no plans about where, when or what. A 2-year study break with travel through Europe, Asia and the South Pacific ensued.
I managed to get through my undergrad courses and ended up with a Master's degree in Audiology. Loved my work, loved my patients… but corporate politics and the United States government created a divergent path for me.
Dale and I got married as I was going to be deported following 911. The gov't informed me that I was considered a security risk as a health care worker?! Thank you government for warming up my cold feet and pushing me to marry a great guy.

I already had plans to travel for 2 months to Africa in September so Dale was left with filling out paperwork. Got home late November, and had to make some wedding bands for our wedding that was planned for the end of December, prior to the expiration of my work visa. My wonderful friend and Mentor Andrew Nyce taught me how to make Mokume and I fell for this process and the challenge of making it.
Until my visa was worked out, Dale encouraged a deviation from my Audiology career in the form of a jewelry business. Years later, I am still doing it and Audiology fell to the background.
There you go. That is how I got into making Mokume… a question I get quite often!
Solo travel to countries where I do not know the language or culture has become my thing since that first trip to Mexico… challenging me to become stronger, kinder, more open, accepting and wiser. Each trip that I take opens me to how entrenched I can become in my comfortable bubble. Each trip that I take teaches me just how kind strangers are, if only given the chance.
In my travels, I often returned with a traditional or contemporary piece of jewelry. My current designs are all named after places I have traveled to, some with particularly fun stories. Go ahead and read about the personal stories associated with each piece.
Do you have a place or experience that is just so special that your mind re-visits it continuously? If so, perhaps you would like to tell me that story, send some photos and perhaps create a one of a kind piece, one that takes you back to that space that makes you feel whole each time you wear it.